Sister Mary Patrice Clifford, OSU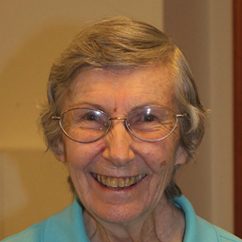 September 2, 1935 – March 29, 2020
Sister Mary Patrice Clifford died peacefully on March 29, 2020, in New Orleans, Louisiana. She was 84.
The daughter of Connell and Mary Eunice Clifford, Sister Mary Patrice was born Lillian Patricia Clifford on September 2, 1935, in Oak Park, Illinois. After her family moved to New Orleans, she attended Ursuline Academy there, graduating in 1953. She entered the Ursuline community that summer and professed her vows in 1956.
Sister Patrice held a bachelor's degree in French from the College of New Rochelle in New York and a master's degree in French from Laval University in Quebec, Canada.
She taught in Springfield, Illinois; New Orleans; and Dallas, Texas, from 1959-81. In 1984, she went to Cameroon, where she was part of the founding international community in N'Gaoundere. She taught in the secondary school there and later tutored pre-seminarians in English, delighting when they were ordained as priests.
When interviewed in 2014, she said: "(Saint) Angela urges us not to consider ministry as a burden but to serve others with joy. The response of my students leads me to believe they realize that I thoroughly enjoy helping them and that I truly love them."
After serving for almost 34 years in Cameroon, in 2018 Sister Patrice returned to New Orleans.