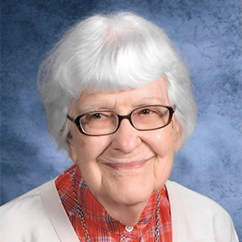 October 5, 1927 – July 31, 2019
Sister Ann Smith (Mother James Marie), OSU, died peacefully July 31, 2019, at St. Clare's Hospital in Fenton. She was a resident of St. Andrew's at Francis Place in Eureka. Sister Ann taught many years in the St. Louis archdiocese.
The daughter of James A. Smith and Marguerite Roer Smith, she was born Oct. 5, 1927, in Springfield, Illinois, where she graduated from Ursuline Academy. She entered the Ursuline Sisters in Crystal City in 1947 and made her vows in 1949. She earned a bachelor's degree in mathematics at the College of New Rochelle in New York and a master's degree in education at St. Louis University.
Sister Ann's long and distinguished teaching career found her serving in Springfield and Oak Park, Illinois; Dallas, Texas; and St. Louis, Missouri. She especially enjoyed teaching reading and math to small groups of high-risk students, using special methods and motivation. She continued tutoring up to age 90, only retiring completely in 2018.
Sister Ann gave her body to science at St. Louis University School of Medicine. A memorial Mass was celebrated at 10:30 a.m. Thursday, August 29, at Blessed Sacrament Church, 1725 S. Walnut St., Springfield, Illinois, with the Rev. Jeffrey Grant presiding.